Join us for a free webinar 16 November 2023. Learn from industry experts!

Jan Frode Bergsø
In collaboration with USN (Universitetet i Sørøst-Norge) Américo Dias (Head of IC design at Nanopower Semiconductor) will speak for MSc students at USN.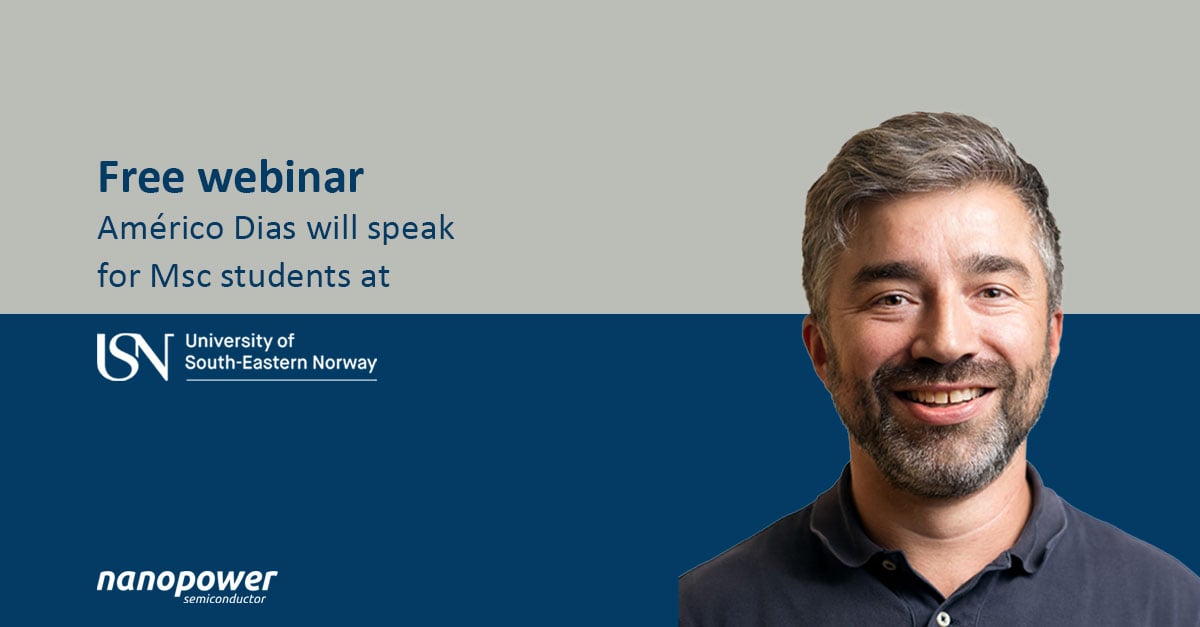 Américo Dias, Head of IC at Nanopower Semiconductor will be speaking to master's degree students at Universitetet i Sørøst-Norge
Américo Dias has a MSc in ECE from the University of Porto and has more than a decade of experience in IC design, both in research institutions and industry.
He started as Digital Backend Designer at Synopsys Inc, but since then he specialised as Analog Designer in several companies including Emerson Automations Solutions (Roxar), Sigma Designs and Knowles Electronics Denmark.
Some of his work is part of millions of integrated circuits spread around the world. He currently helps Nanopower Semiconductor to develop the next generation of low-power integrated circuits which will revolutionise large scale IoT applications.


Sign up and get a FREE link here


📅 When?
Thursday, 16th of November 2023
10:30 - 11:40 AM
Central European Time (CET)
(Norwegian time)


Here are some of the key takeaways you'll get from this webinar:

👉 Nanopower Semiconductor journey
👉 Ultra low power IC design
👉 Challenges with subthreshold IC design

😃We look forward to seeing you!